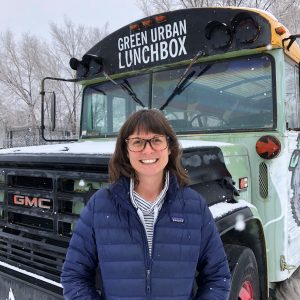 Katie Nelson, Executive Director
Katie has been an active participant in the Salt Lake City food justice scene since 2012, when she began volunteering with The Green Urban Lunch Box. Since joining the staff in 2014, Katie has been assisting our founder, Shawn Peterson, in establishing and growing both the Back-Farms and FruitShare programs from the ground up. Katie has extensive experience in grassroots program development, gleaning, and urban farming. She is delighted to step into her new role as Executive Director and aims to continue growing the food rescue and distribution efforts of The Green Urban Lunch Box, while supporting the organization's capacity to empower people to grow their own food creatively.
Katie@gulb.org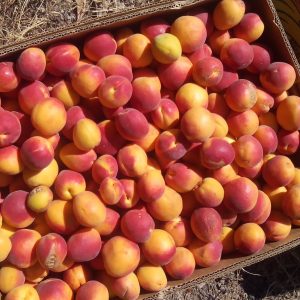 Darin Mann, Back-Farms Coordinator
Darin has long had a passion for building community, whether it was founding an organization like U fight PD designed to help people suffering from Parkinson's Disease, or working as an environmental advocate on Capitol Hill for Utah Rivers Council and SLC Air Protectors, Darin has been there to push for a better future.
Now his passion for community and living in a sustainable environment has lead him to work for the Green Urban Lunchbox. He hopes to help build a future where we can sustainably provide food for people through responsible Urban Agriculture and fruit tree gleaning.
Darin is very excited to be a part of the GULB team and is excited to work with all of you toward building a sustainable way to solving Utah's food needs. If you would like to contact him please email him at Backfarms@gulb.org.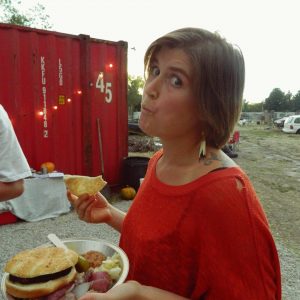 Jenae Ridge, Development Director
Jenae grows her passions for health equity and community empowerment through her role at the Green Urban Lunch Box. Believing whole-heartedly in our mission, her purpose is to get you on board as well. With mid-west blood running through her veins, and a tangled web of experiences in the nonprofit food world, Jenae comes to the Green Urban Lunch Box with a big heart, lots of ideas, and a top notch work ethic.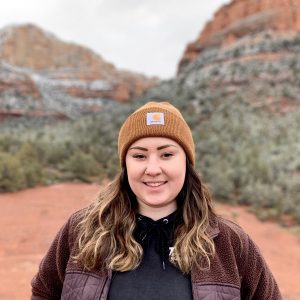 Sammie Garcia, Program Outreach Coordinator
Sammie is a student at the University of Utah studying sustainability, food systems, and urban ecology. A Utah native, Sammie loves being a part of the Green Urban Lunch Box team where she gets to put her passion for sustainable and connected food systems to work in her community. She is interested in exploring the rich urban farming scene in the Salt Lake Valley and learning about the ways that communities are built, strengthened, and made to thrive by reconnecting to each other and their local food systems. Soon to graduate, Sammie is excited to continue discovering new ways that good food can be leveraged to foster connection and equity. 
info@gulb.org
Our Board
Jenn Blum, Chair of the Board
Marketing and technology systems design
Mary Mahony, Treasurer of the Board
Retired, Back Farms participant
Megan Warren, Secretary of the Board
Event Coordinator, University of Utah
Nicole Taylor, Board Member
Teacher, The International School
Beth Clifford, Board Member
Superhero, Salt Lake City