To empower people to connect to food and their community by revitalizing urban spaces and building a resilient food culture.

We envision a strong network of communities centered around the cultivation of fresh, healthy food.
Katie Nelson, Executive Director (She/Hers)
Katie has been an active participant in the Salt Lake City food system since 2012, when she began volunteering with the Green Urban Lunch Box. Since joining the staff in 2014, Katie has played an active role in organizing the community and developing and building the Back-Farms, FruitShare, and Small Farm Initiative programs. Katie has extensive experience in grassroots program development, gleaning, and urban farming. 
When Katie isn't growing or eating delicious food, she is spending time with her family in the outdoors.                                                                 
Contact: katie@gulb.org
Jennifer Hamilton, Associate Director (She/Hers)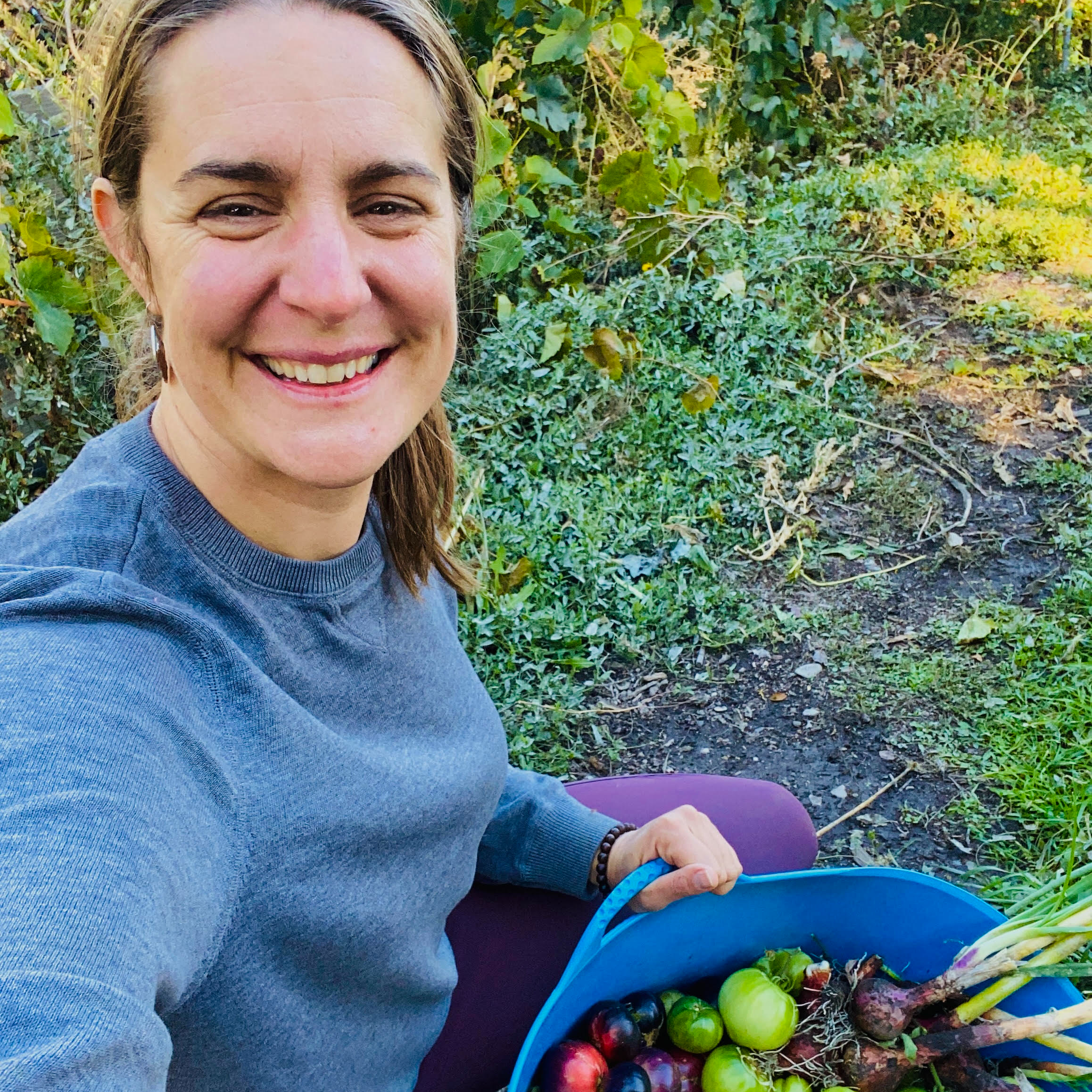 Jennifer is no stranger to sustainable food systems, community organizing, and climate activism. Her background includes launching the Green City Growers program at Wasatch Community Gardens, founding team member and Impact Manager at Maple Grove Hot Springs, Executive Director of Stokes Nature Center, board member of Peaceful Uprising, and being an active member of local urban homesteading groups since 2006. She received her Permaculture Design Certification in 2014 and is currently pursuing a BA & MBA in Sustainability Leadership at Prescott College. When she is not supporting amazing organizations such as GULB, you will find her ecstatically dancing or diving into rivers and lakes. Her favorite things to grow are potatoes, flowers, and her two lovely daughters. 
Contact: development@gulb.org
Jessica Collette, Back-Farms Program Coordinator (She/Hers)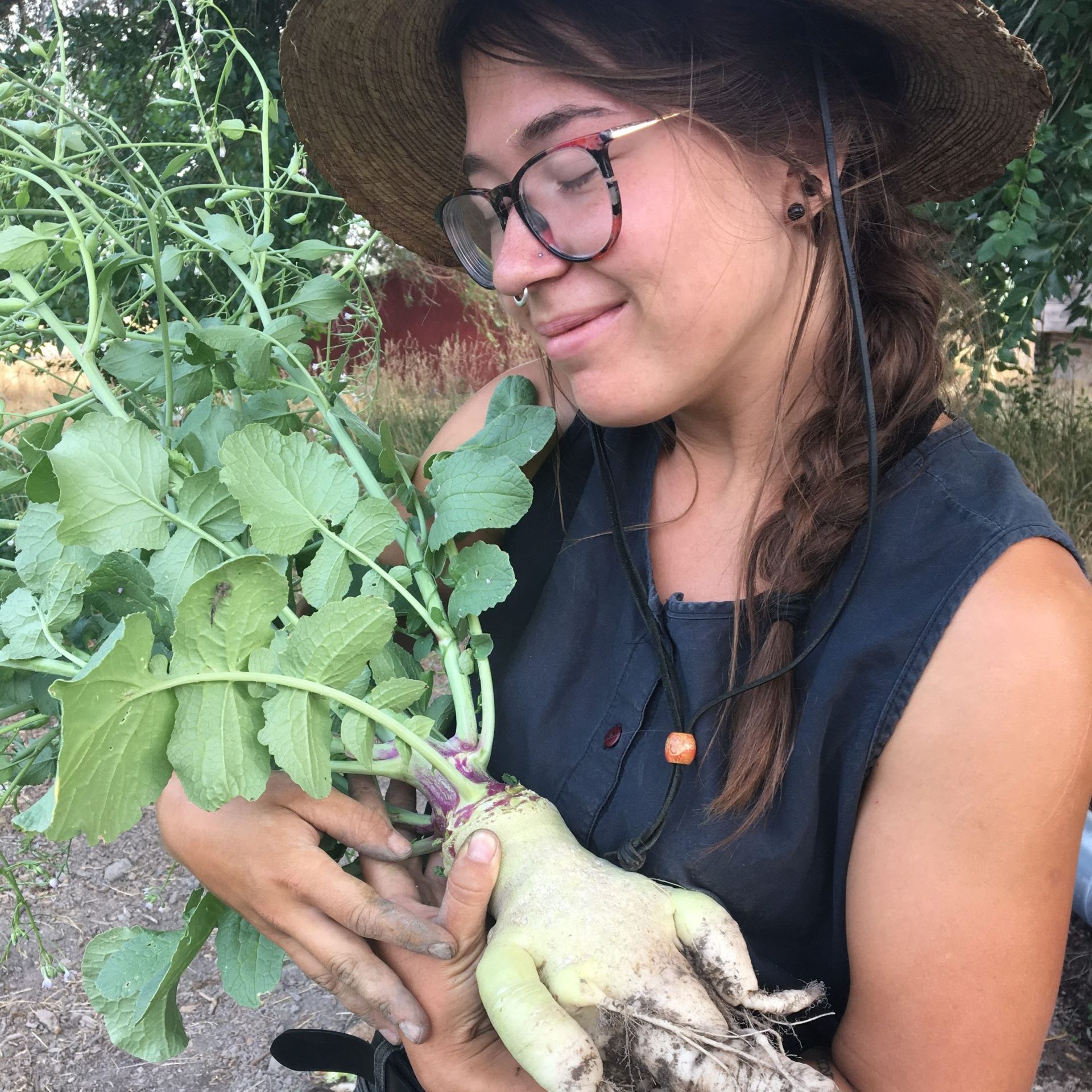 Jessica has been interested in working at the junction of sustainable farming and food justice since spending a few years living in a rural midwestern community that was both a haven for organic farms and a food insecure region. She has worked in various settings, from a food pantry in northern Wisconsin to a homestead in mid-coast Maine to an educational garden in Moab, but her path eventually led her to Salt Lake City to work with the Green Urban Lunch Box. She has spent time working with most of GULB's programs, but really found her place within Back-Farms. After two seasons spent teaching volunteers how to grow vegetable gardens, she is now working to balance both coordinating the program and working in the gardens. If you find yourself in one of Jess' gardens, she'll probably try and convince you that the most exciting garden delicacies are radish seed pods, okra, and nasturtium leaves.
Contact: backfarms@gulb.org
Hannah Goggin, Equitable Distribution Coordinator & FruitShare Communications (She/Hers)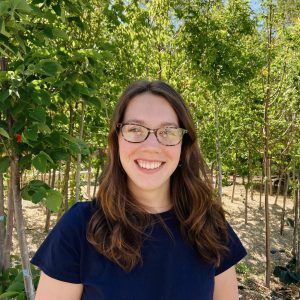 Hannah is a recent graduate from Miami University, where she majored in Environmental Earth Science and Sustainability. Her interest in sustainable food systems comes from first hand experience growing up on a small farm in rural Ohio and working as an outreach intern with a local farmer's market in college. Hannah believes that the biggest shifts in the food system will come from improving the system itself by increasing efficiency, minimizing waste and finding new ways to collaborate. Outside of work, Hannah loves to prepare new dishes featuring seasonal produce as well as explore her new home in Salt Lake City!
Contact: pickfruit@gulb.org
Ali Scheig, Farm Co-Manager (They/Them/She/Hers)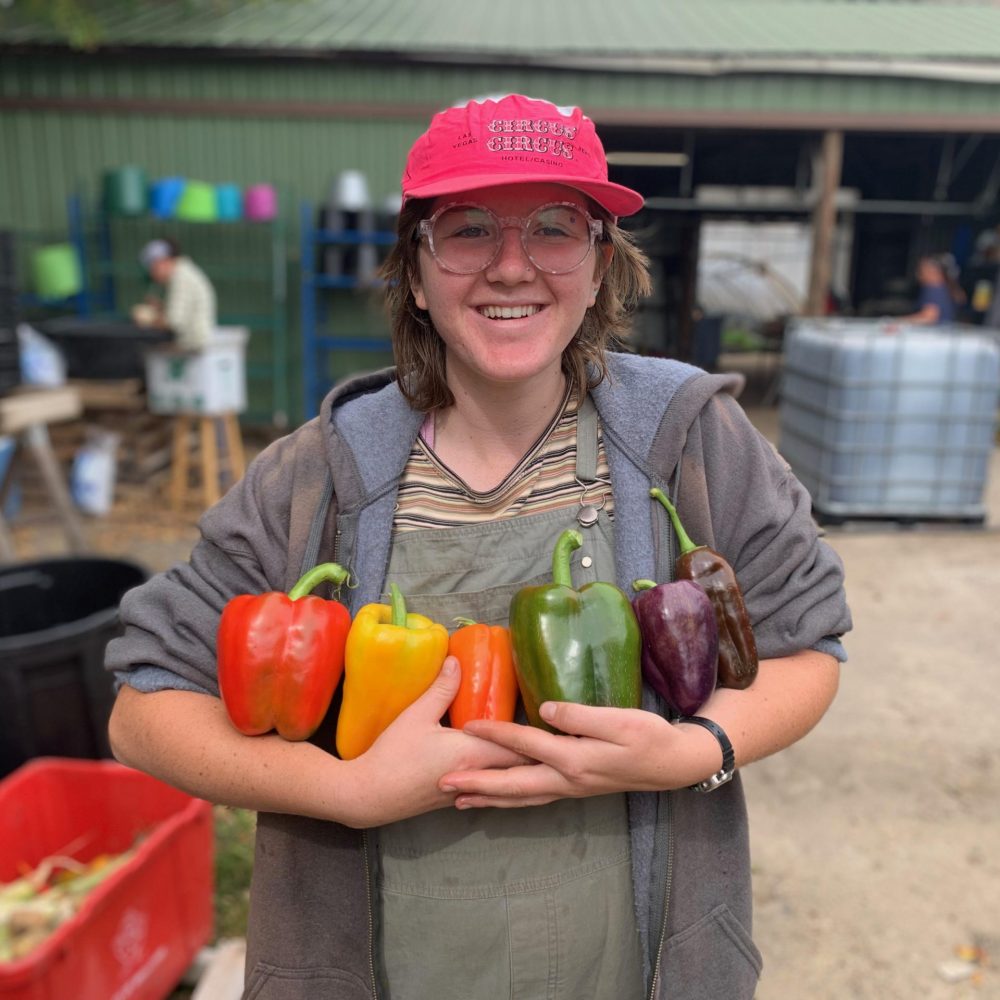 Ali's interest in the food system began in college in Southwest Colorado while working with her school to offer more local, sustainable, fair trade, and humane foods in the cafeterias. Ali's areas of interest in the food system involve almost all aspects of it—growing food, cooking, waste management, and so on. She believes that the connection food brings to people in a community is extremely important. To learn more about the food system, she pursued an internship on an urban farm in St. Paul, MN which sparked a huge passion for connecting with community by growing food. Years later, Ali made her way to Salt Lake City and is so excited to be working within the Back-Farms and Small Farm Initiative programs with GULB this season!
Contact: sfi@gulb.org
Alysha Carmien, FruitShare Harvest Leader (She/Hers)
Alysha has been pursuing her passion in horticulture for nearly two decades across the Rocky Mountain west. She has found her niche in homegrown revolution by participating in various community resiliency projects focused in agriculture. She emphasizes the importance of social justice movements that reconnect people to the land and share knowledge across all walks of life. Over the years, Alysha helped establish and expand local food networks between student bodies, private businesses and underprivileged demographics within communities. Her passion projects include herbalism, mushroom foraging, wild medicinal and wild edibles. While on her many adventures, you can find Alysha exploring canyons, rafting rivers, hiking mountains, climbing trees and getting her hands dirty in the gardens!
Contact: harvester@gulb.org
Gabrielle James, Back-Farms Garden Leader (They/Them/She/Hers)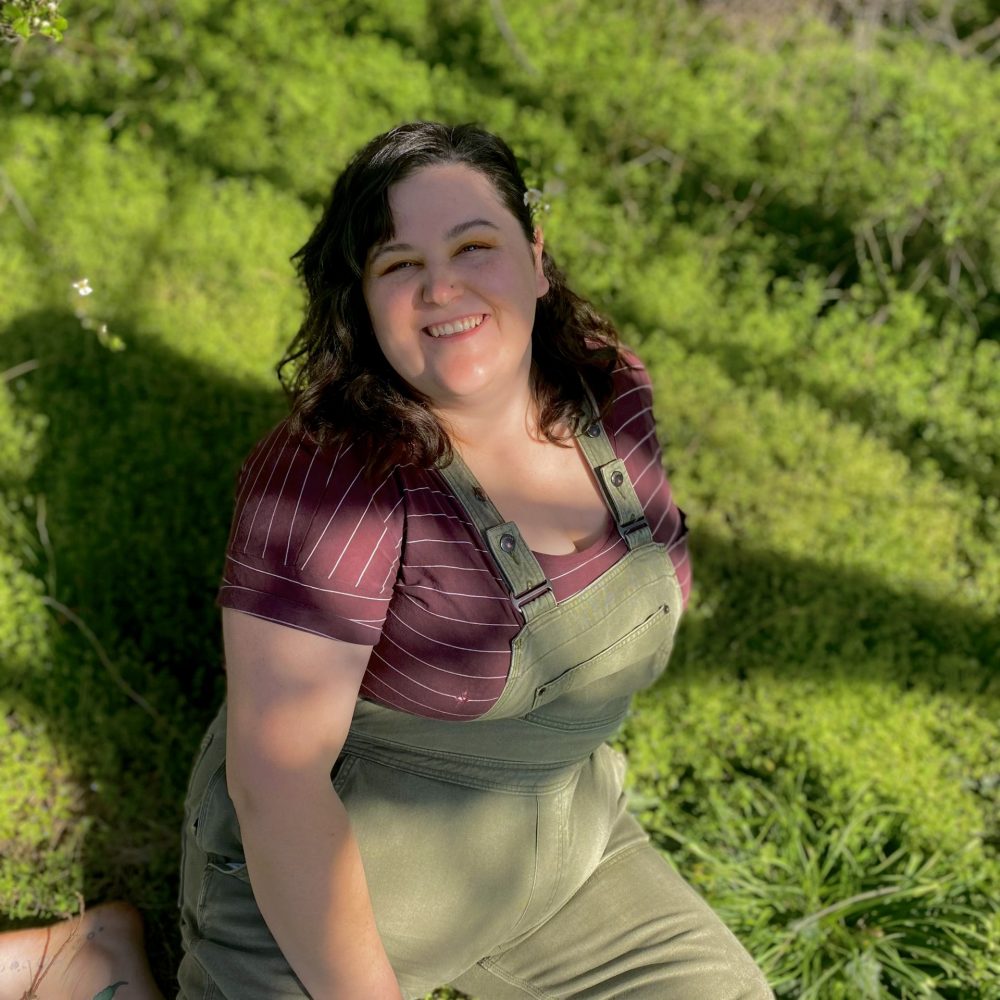 Gabrielle is a recent graduate from the University of Utah, where they focused their Sociology and Outdoor Education studies on Food Justice. They are passionate about equitable access to food and nature, and are excited by the rich connection that is facilitated through food and food traditions.After spending the last two growing seasons learning with GULB's programs- first as a garden apprentice for Back-Farms and intern, then as a farm apprentice in the Small Farms Initiative, Gabrielle is excited to be working as a garden leader for GULB this season!When not elbow deep in garden dirt, Gabrielle can be found working on slow food projects or camping with their spouse and pup. 
Ellen Kwan, Back-Farms Garden Leader (She/Hers)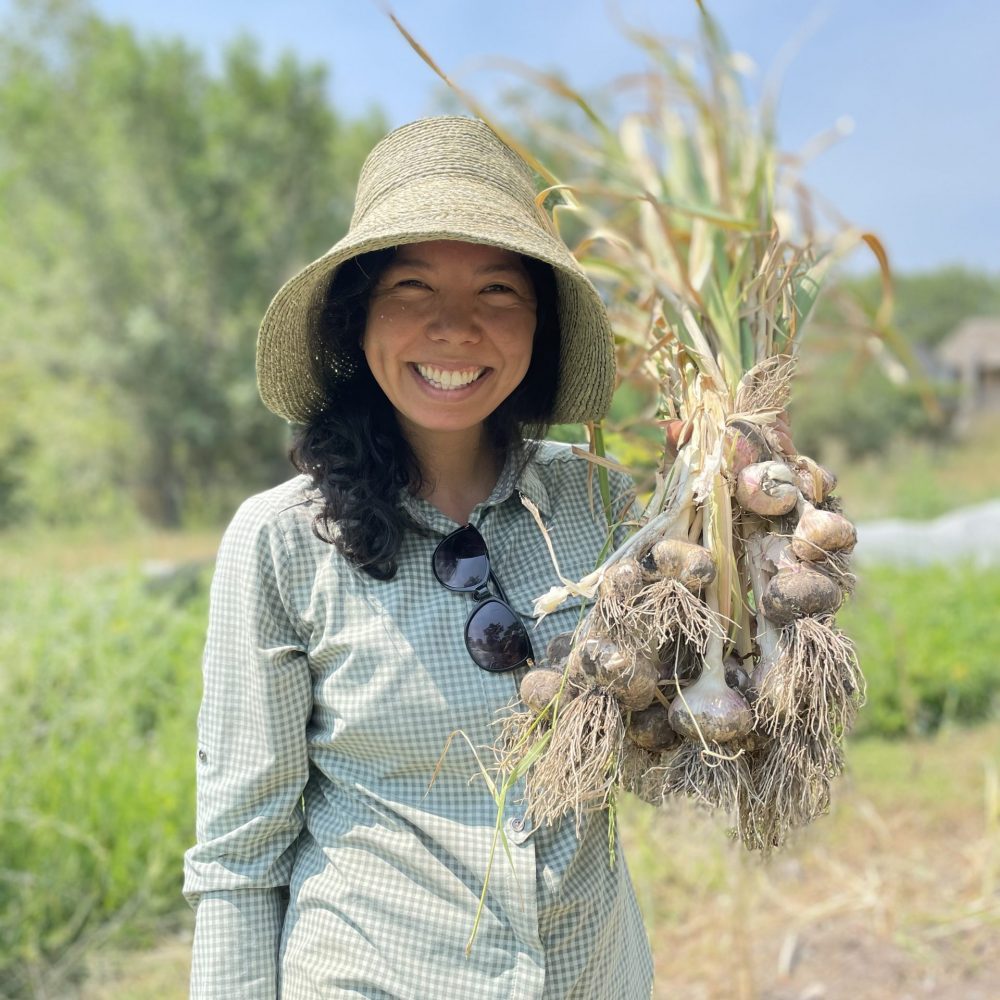 Ellen's interest in sustainable farming and food justice first started while living at Carleton College's sustainability interest house (aka Farm House), where set in the backyard was a one acre student-run farm. Since then the backdrop of rural Minnesota and the desire to get her hands in the dirt and grow food have never left her. Last year, Ellen participated in Green Urban Lunchbox's stewardship program and apprenticed with Back-Farms, and is so excited to join GULB's team! When not working in the Back- Farms gardens Ellen can be found creating and teaching in the ceramics studio, cooking up new dishes or fermentation experiments, or hiking.
Beth Clifford, Chair
Employee Experience, Adobe
Kate Wheeler, Secretary
Farm to School Specialist,  Utah State Board of Education
Shawn Kintaudi, Treasurer
Audit Manager, Eide Bailly LLP
Maquelle Drummond
Student/Research Assistant, Brigham Young University
Matt Mulligan
Assistant Professor, Division of General Internal Medicine University of Utah School of Medicine 
Katie McKeon
Owner, Salt City Kitchen