Through the Back-Farms and Small Farm Initiative programs, the Green Urban Lunch Box distributes free fresh and locally grown produce at select markets across the Salt Lake Valley.
When compared to other age demographics, seniors experience food insecurity at a disproportionate level. This program is a partnership between The Green Urban Lunch Box, Salt Lake County's Aging and Adult Services, Salt Lake County Master Gardeners Program, and Salt Lake County Jail's Horticulture program; each organization works together to address food insecurity and create access to healthy fresh food for senior citizens in our community.
In conjunction with our partners, we hosted 64 Free Farm Stands for seniors at local senior centers throughout the 2019 growing season (July-October). Our staff and volunteers grow produce to supply these farm stands through our Back-Farms and FruitShare programs. In 2019, we provided fresh produce for more than 125 seniors every week of our growing season.
COVID-19 Update
Due to the nature of COVID-19 and as we work with vulnerable populations, this season our distribution programs will take new forms to best care for recipients, volunteers, and staff. Salt Lake County Senior Centers are currently closed and do not have an anticipated re-opening date. Together with our partners, Salt Lake County's Aging and Adult Services, Salt Lake County Master Gardeners Program, and Salt Lake County Jail's Horticulture program, we will begin distributing fresh produce during lunch pick up beginning July 23rd. The schedule is outlined below:
In partnership with Intermountain Healthcare, we host Free Farm Stands at four cancer centers along the Wasatch Front. Our aim is to provide fresh nutritious produce to patients undergoing cancer treatment. This produce is grown by our staff and aspiring farmers through our Small Farms Initiative program, which is located on our farm in South Salt Lake. Ability to access fresh, high quality organically grown produce is important- according to the CDC, "eating a diet rich in fruits and vegetables daily can help reduce the risk of many leading causes of illness and death, including heart disease, type 2 diabetes, some cancers, and obesity."
COVID-19 Update
COVID-19 has forced us to pivot away from our Free Farm Stands at Intermountain Healthcare cancer centers. The centers are doing what they can to protect their patients, and outside visitors are not encouraged at this time. Instead, the 10,800 pounds of fruits and veggies that were intended for the cancer centers will be directed to the Utah Food Bank to help fight food insecurity. Thankfully, the food bank is still in operation and prepared to take on the majority of our produce this year.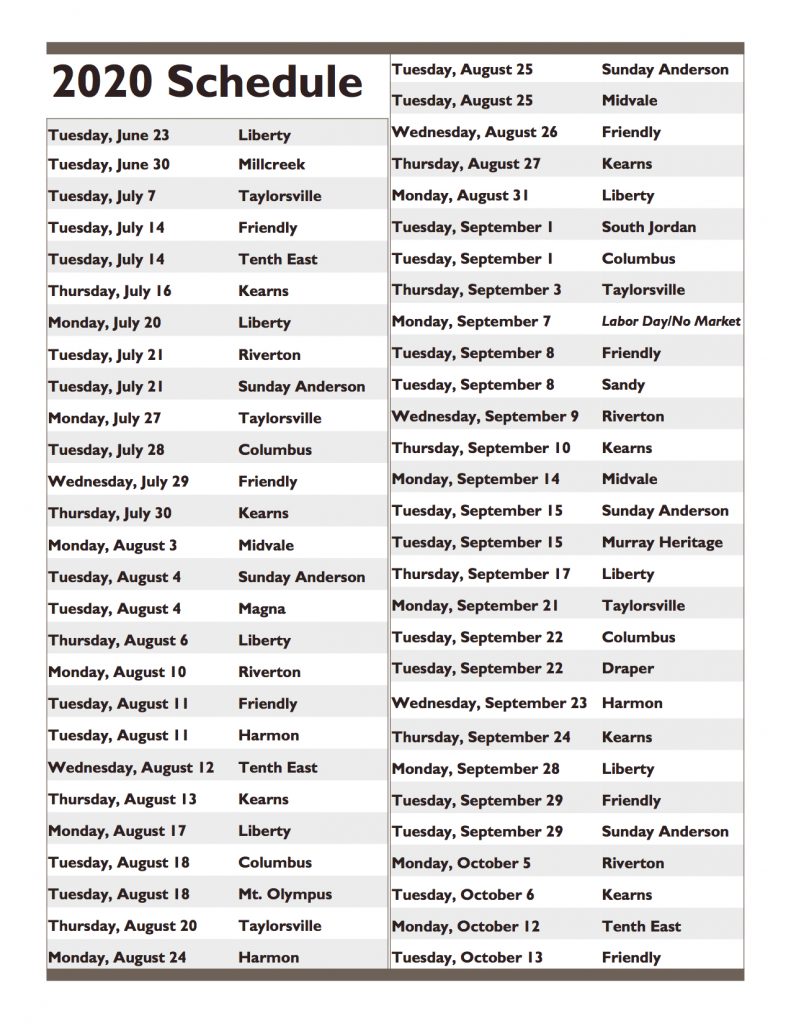 First, let's unpack the difference between food insecurity and hunger:
The USDA defines food insecurity as "households [that] are uncertain of having, or unable to acquire, at some time during the year, enough food to meet the needs of all their members because they had insufficient money or other resources for food." To be food secure means that a household always has reliable access to enough healthy, nutritious food for every member of the household.
Hunger, however, occurs when lack of access to enough food interferes with one or more household members' food routines. Hunger in this context is different than what you might immediately think of. Yes, we may feel hungry if dinner is taking a little longer to cook than we had planned, but this context of Hunger is referring to an individual experiencing those hunger pains because there isn't access to enough food for every household member to eat enough food each day. 
Therefore, a household can be food insecure without having any members experience hunger. Food insecurity can take on a lot of forms, which means that:
Food insecurity can be difficult to recognize.
While certain populations are more likely to experience hunger, people from any demographic can experience hunger- often going unseen by those around them. As discussed above, food insecurity includes hunger but not every food-insecure household experiences hunger. The USDA's definition of food insecurity includes "reduced quality, variety, or desirability of diet." This means that a household can have access to enough food for each person every day, but doesn't have access to a variety of healthy, nutritious, culturally appropriate foods or doesn't have the means to follow a desired diet such as vegetarianism, veganism, gluten-free, or others whether they be preferential or medically necessary. A household may also be considered food insecure if there is access to enough food, but anxiety or stress is experienced by one or more household members around access to food. 
Food insecurity can be especially tricky when a household's income is greater than the requirements for aid, yet the household experiences any or all of the above possibilities. This can happen due to a lack of affordable housing, healthcare, education, and many, many other reasons.
Because of all the above complexities, many more people experience food insecurity than one might initially think; the USDA states 37.2 million individuals experience food insecurity each year. According to Feeding America, 1 in 9 of our neighbors in Utah do not have enough money to buy nutritious food or have to choose between paying for other necessities (medical bills for example) and quality food. To meet the food needs of every Utahn facing hunger, Feeding America estimates it would take an additional $171,029,000 per year (note: Utahns facing hunger only, this does not include Utahns experiencing other types of food insecurity).
The key here is that food insecurity is different for every food-insecure household. Food insecurity shows up differently for different households. There is no face to food insecurity or hunger.
Senior Markets Hosted by Partners
Senior Markets hosted by GULB