In 2010, Shawn was sailing around the world and had an interaction with someone growing tomatoes and other garden variety plants in the bed of their truck. He chewed on this for a while and thought, "why not do it bigger". When he returned to Salt Lake City in 2011, he bought a 35-foot school bus. Some friends helped him to rip the seats out and replace the roof with greenhouse plastic. They installed garden beds, soil, plants, and at one point even had an entire aquaponics system!
Thus, the Green Urban Lunch Box was born.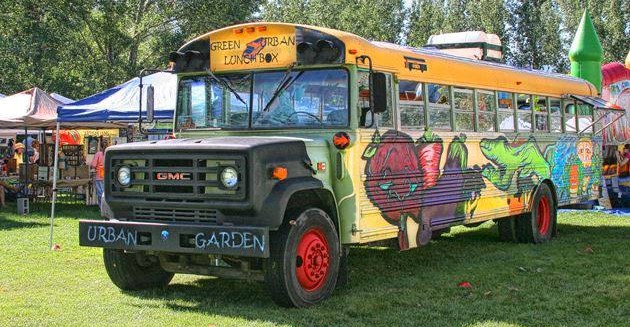 Shawn drove the bus to community events and eventually to schools where along with volunteers he taught the local children where their food comes from and inspired many more to understand that even though we live in a city, we can still grow our own food if we get creative.
Back-Farms
Soon enough, the community got word of what was going on. Somehow, this woman named Fran got Shawn's number. Fran was an elderly woman with a persistent nature that once gardened her large backyard. She was no longer able to work the land, and somehow called Shawn's cell to get some help. "My yard shouldn't just go to waste, someone should benefit from it!" Shawn tried to find an organization or group already doing something of the sort but had no luck. Because of Fran's tenacious desire to have a garden, Shawn decided to just do it himself. He needed help from a volunteer and found Katie Nelson (our first Garden Apprentice and current Executive Director). They met once a week to help garden Frans yard. As we all know, people talk. Fran's friends found out and they all wanted gardens of their own.
Our Back-Farms Program has evolved to include 40 gardens in the yards of 55 seniors, 50 garden apprentices, and multiple Free Farm Stands at the local senior centers. Our Free Farm Stands include partners such as Utah State University Extension, Salt Lake County Jail's Horticultural Program, and Salt Lake County Aging and Adult Services to provide free produce to all the senior centers in Salt Lake County.
FruitShare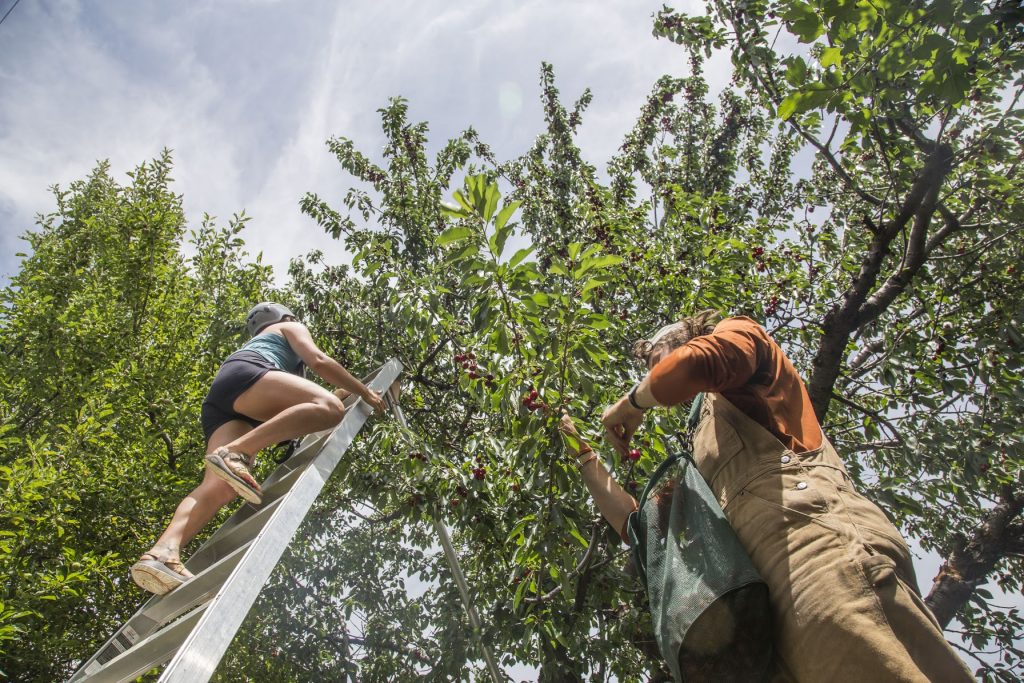 This program started out as a partnership between Salt Lake City's Sustainability Department, the Green Urban Lunch Box, Tree Utah, and Real Food Rising. In 2015, the city put out a request for proposals that would provide funding for one organization to take the lead. The Green Urban Lunch Box received that contract. This program quickly outgrew our capacity. And it's no surprise! It's estimated that half of the food in our country is wasted, and once Salt Lake residents found out that there was a solution to all those apricots rotting on their lawn, the rest is history.
We have grown this program to include harvest partners such as the Green Team Farm and local volunteer heroes who help increase our capacity to harvest! In 2020, this program alone recovered over 44,000 pounds of fruit that would have otherwise gone to waste. Over 10,320 pounds of which was B-Grade produce, meaning not grocery store quality. We partnered with: Mountain West Hard Cider, The Bearded Lady, Les Madeleines, Drupefruit, Pie Party, Salt Fire Brewery, In High Spirits Infusions, Bitterslab, Cru Kombucha, Zest Kitchen and Bar, and Patras Backstubchen and 26 community members to process this fruit into value-added products for the community.
Small Farm Initiative (SFI)
While looking at what urban farming programs were doing in other cities in 2016, we began to realize that if someone in SLC was interested in learning how to farm, they would have to travel to California or further to learn this trade in an urban setting. At the time, nowhere near us offered a program of this sort. That same year, we applied to lease 3-acres of land from Salt Lake County to start this program and received it. This program originally began with a few classes and a land agreement. It then evolved into specializations (aquaponics, intensive urban growing, and animal husbandry).
Now, SFI is offered at three levels. The apprenticeship, which includes both in-class and hands-on learning; the stewardship which is hands-on only; and the online-only which involves just the classroom work. Students can choose to do one-three modules (spring, summer, fall) each year. We have seen our highest participation rates yet with this newest model!
Part of SFI is to run a Community Supported Agriculture (CSA) program open to the community. This began in 2018, and in 2021 we are now offering these on a sliding scale and accepting SNAP benefits, and double up food bucks to increase accessibility. We are proud to be offering 57 shares to the community this season, 18% of which are offered below cost.
Evolution of Food Distribution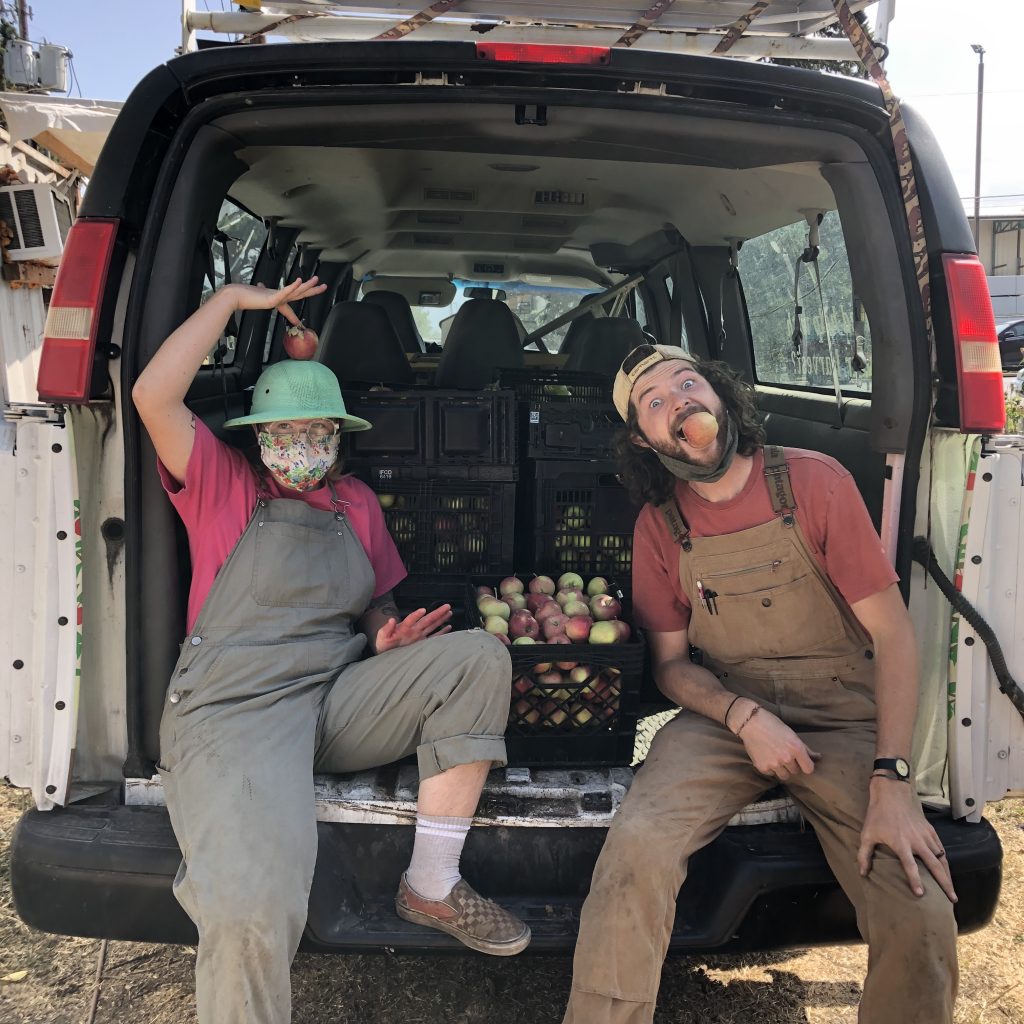 I personally have worked at the Green Urban Lunch Box on and off since 2015. I remember having a list of all the food pantries and calling multiple after EACH harvest to see who would be able to take 3,000 pounds of apricots! We have stored fruit in storage units, warehouses with an extra walk-in, and even Shawn's tiny fridge in his back yard. Over the years, we sure have evolved!
In 2017 we built a cool-bot on the farm out of an old shipping container, that year we outgrew that fridge and a few years later built a larger one. We created more partnerships and programs to move the food faster. We even at one point developed the bus into a mobile market and drove it around to distribute directly into communities!
Today, the majority of our produce is distributed to our program participants and volunteers, we sell a good portion to add to the sustainability of our organization, offer it through our Free Farm Stands, and have several distribution partners. These include The Utah Food Bank, BeWise Utah, New Roots food pantry through the IRC, and One Voice Recovery.
Celebrations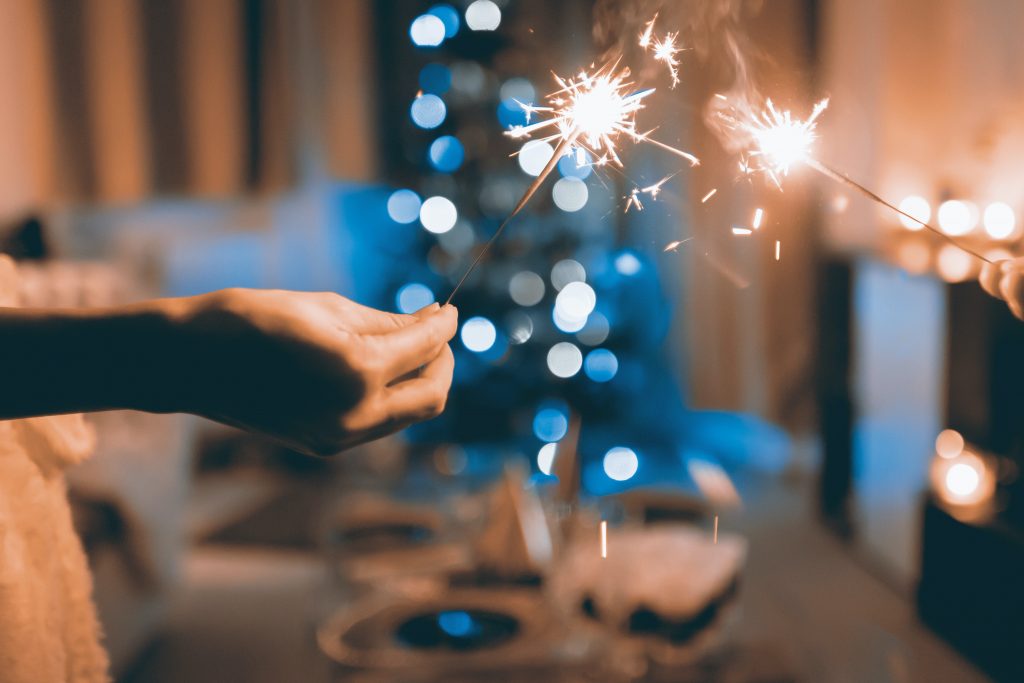 As you can see, we've come a long way! Join us in the celebrations. You deserve it! We would not be where we are today without help from people like you. More details can be found here.
Back-Farms Garden Party | Thursday, July 29th | 5:30 pm – 8:30 pm | 3487 S Citrus Cir, Salt Lake City, Utah, 84106
Cheers to 10 years at Mountain West (must be 21+) | Wednesday, August 4th | 5 pm – 9 pm | 425 N 400 W, Salt Lake City, Utah, 84103
Party at Patagonia | Tuesday, August 10th | 4 pm – 6 pm | 2292 Highland Dr, Salt Lake City, Utah, 84106
10 year Birthday Bash! | Friday, August 20th | 5 pm – 9 pm | 3188 S 1100 W, West Valley City, Utah, 84119
Find more details here! Can't wait to celebrate with you! <3
Partnering with us on these events are:
Mountain West Hard Cider | Patagonia | Uinta Brewing | Lagoon | Olive & Oak Apothecary | Laziz Kitchen | Red Butte Garden | Vessel Kitchen | Les Madeleines | The Gear Room | Desert Edge Brewery | Stella Grill | Jaybird | Wasatch Blooms | Drupefruit