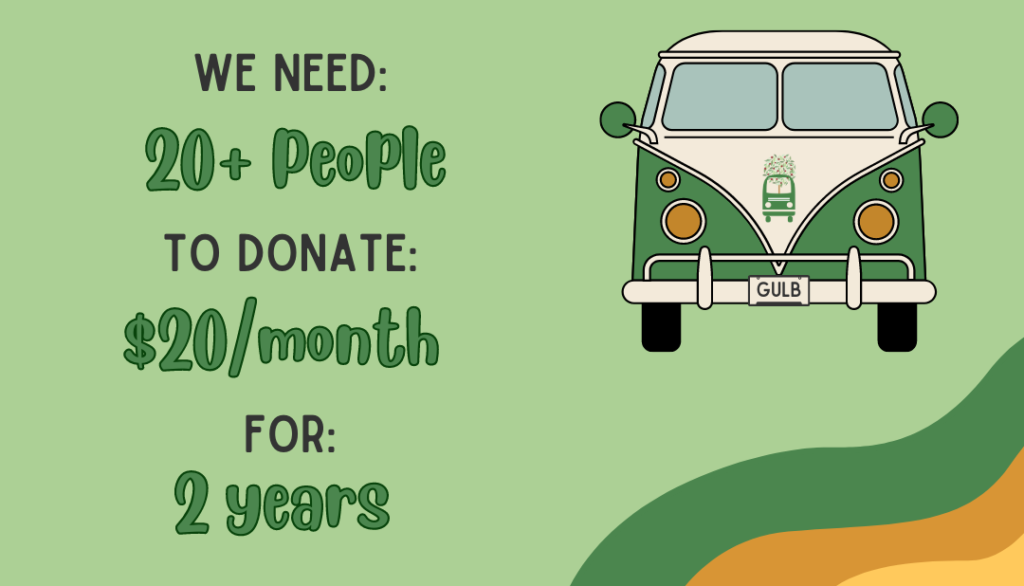 For a dozen years now, the Green Urban Lunch Box has been a driving force in Salt Lake City's urban farm and gleaning community. The produce we grow, harvest, and glean helps feed local seniors, low-income families, and others who encounter barriers to accessing healthy food. Central to our work is the ability to distribute hundreds of pounds of produce throughout the valley every week. But GULB's vehicle fleet is failing, and failing fast! And we need your help to keep our mission moving forward. 
VAN on the RUN is a fundraiser to help GULB obtain and sustain the necessary funding to acquire new-to-us vans to provide safe and reliable transportation for food distribution. To meet our goal, we need 20 individuals to commit to a $20 monthly donation for a period of two years. If, however, 120 individuals make this commitment, well that would be beyond amazing and create an incredible impact for the people we serve.
The first 20 donors to VAN on the RUN will receive some specially designed swag AND the immense joy of creating a ripple effect to last for years to come. Many people find GULB because of our branded vans out and about in the community. But we can't do it without our community, so please, join this fundraiser today! THANK YOU!